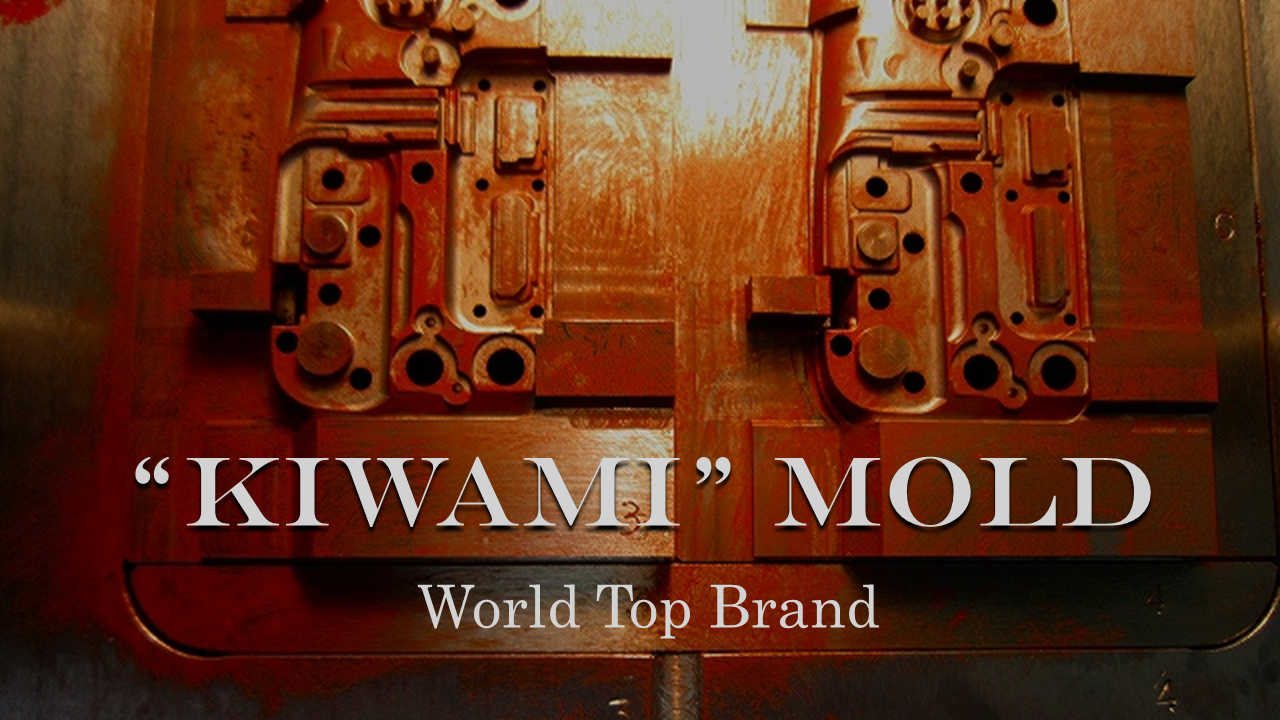 "KIWAMI" is high-end mold brand made in Japan. Latest machining tools are necessary for the quality, but not enough. Until excellent designers and craftmans add their wisdom and creativity to them, supreme molds never come in sight.
"KIWAMI" is top brand such professionals build.
KIWAMI quality
KIWAMI quality
 finishing and accuracy
Ultimate quality accomplished by handwork in finishing. Fitting technique achieve unbelievable surface almost as if there "no parting line" on it. Polish technique give jewelry-like gross on surface. These handworks strengthen machining tools' accuracy

 complex structure
Molds' complexity required become greater year by year. For example, slide motion toward diagonally upwards or two-color injection. Not only Designers have to adopt new mechanism appropriate to the spec, But also craftmans realize it. And above all good communication between both and customer is more essential.

 high durability
The more complex mold's structure or molding procedure, the greater the risk of accident. In addition to simple destruction due to the lack of strength, galling, wear and aggression by molding material are also important. By listing up these factor in advance, we prepare to respond to the problems. And finally it reduces downtime at customer's factory.

---
markets we served
We have many customers in various industries.
medical goods
light electrical appliance parts (camera and video)
automobile parts
connector
sundry goods
---
samples
---
---
Product specification
Product range
Please check below to know our capability.
mold specification
mold type
injection mold for plastic and rubber

Shuttle and Insert Molds
Expandable and Interchangeable molds
Multiple Slide Action Molds
Two Color(Material)
Molds Stripper and Floating Cavity Plate Molds
Hot Runner System
UnscrewingMolds

adaptable molding machine
mold for 30 - 350 ton class machine
mold weight
maximum 1 ton
molding method
insert molding (overmolding)
two color (two material) molding
hoop molding
---
material
Plastic and rubber
Polyethylene (PE)
Polypropylene (PP)
Polystyrene (PS)
Poly Phenylene Sulfide (PPS)
Polycarbonate (PC)
Thermoplastic Elastomer (TPE)
Acrylonitrile Butadiene Styrene (ABS)
mold insert (cavity and core)
AISI P20, P21, 420, 440C, H13, D2, 1045-1055
DIN 1.2330, 1.2083, 1.2344, 1.2601, -1.1730, 1.2312
JIS SCM, SUS420J2, SUS440C, SKD61, SKD11, S45C-S55C
others STAVAX, MOLDMAX-HH, LKM2312, LKM2316, LKM738H
---
leading time
mold insert material
Carbon steeel
P20
H13, 420
design
1week
Tooling
2weeks
2-3weeks
3-4weeks
other
sample = 1week, Production (Qty 10k) = 2-4 weeks
---
accuracy
minimum precision 0.002mm(0.0001in)
minimum corner radius 0.02mm(0.001in)
mold surface finishing (treatment)
polishing, texturing, metal coating